Top 10 Reasons to work at CCU
A Culture Created By Us, For Us
We're not like everyone else. You need to know that from the start. And we're different because of our Team 1 Culture. Our Culture drives everything we do, the way we treat each other, the way we greet each other, the way we make decisions. Everything is focused on our Common Purpose: We Better Lives Through OUR PASSION to Serve. Team 1 wasn't developed by our Board or our Senior Team or some outside consultant. Our Team 1 Culture was created by us, for us, through the hard work of dozens of team members at all levels of our organization. It's what makes us different. It's what makes us special. It's what makes us a great place to have a career!
Our Values
Imagine you're a Super Hero. What would your powers be? More important, what would be your values – the things that come to mind when people think about you. That's what we did when we created our Team 1 Culture. Our Values are vital to our success. For our members, and each other, we ARE Super Heroes. We are known for things like Trust, Integrity, Accountability and Care for Others. It's OK if you don't live these values. You just can't work here. ;)

Empowerment and Recognition
We believe the secret to success isn't much of a secret. Hire the right people, give them the best training and an encouraging work culture, and then get out of the way and let them be awesome! We encourage our team members to use all of their resources, talents and skills to become the best versions of themselves at Commonwealth CU. We celebrate our successes, too! This can be individual recognition or events where entire teams share the spotlight. With Team 1, recognition comes from our leaders – and EVERYONE is encouraged to be a leader. We encourage every team member to recognize the Extraordinary Experiences provided by others. It's important in our culture that we take pride in the accomplishments of our fellow team members as much as we do our own.
Everyone Has A Voice
Communication and Feedback are two of our most important Leader Behaviors. When we say our leaders have an "open door policy," we mean it! Team members have regular meetings with their managers to voice any questions or concerns and are encouraged to stop in any time if there's something on their mind. That extends all the way up to our President/CEO Karen Harbin, who takes great delight in meeting with staff on a regular basis. Beyond this, employees can send questions or suggestion to Karen any time through our #HeyKaren platform on our Intranet. Our Senior Team holds Town Halls to share information and solicit team member input. We also conduct frequent team member surveys and staff have the opportunity to serve on a variety of committees. This is all part of our Culture and helps us provide the best products and services possible to our members in an environment where everyone can grow and succeed.
We Make A Difference
Our Common Purpose is WE BETTER LIVES THROUGH OUR PASSION TO SERVE... To us, it means EVERYTHING!
We have a saying here: Start the Ripple. That's a reminder to all of us that We Better Lives starts with each one of us. We want you to thrive and prosper so that you have an Extraordinary Experience. If you do, we think you'll spread that positive energy, first to your teammates, then your department, then the whole credit union, and finally out to our members and our entire service area. Everything we do impacts others, so we encourage you to get involved and do your part to Start the Ripple and Better Lives for yourself and everyone else.
A Commitment To Developing Our Team
We want your career to go as far as your talent and commitment will take you. That's why we invest a significant amount of our resources into Career Development. This can take place during the work day at classes hosted by our Career Development Team or at off-site classes and seminars, as well as after-hour events that will allow you to network and grow. We also have a generous tuition reimbursement program that benefits team members as they pursue a higher education. We want to make sure our staff are prepared should the opportunity for advancement become available.

Benefits You Want & Need
The success of our team starts with YOU, and we want you to enjoy life to the fullest. We provide many tools that give our team a "healthy" competitive advantage. This includes comprehensive insurance options, free Teledoc service (that helps avoid copays), free Identity Theft protection, paid time off and holidays, an Employee Assistance Program, and an Employee Wellness Program featuring GO365 with fun events and incentives throughout the year. We have also invested in water bottle filling stations at each branch (which kept over 26,000 plastic bottles out of the landfill last year!).
Our People are our Brand
Our members choose Commonwealth Credit Union for many reasons. Our top notch team is one of them! Our team members are committed to our Common Purpose and Brand of We Better Lives. It's something that can't be faked, so if you're the kind of person who genuinely cares about others and has tons of passion for putting others first, we might have a place for you. We'd love to talk to you and find out where your skills and talent best fit with us.
Better Living (Wellness & Benefits)
Our "Team First" approach is evident in our benefits. We don't stop at a great insurance program and 401K match. We add in a great vacation and sick leave policy, paid holiday schedule, Friday Fun Days, performance bonuses, fitness club discount at the YMCA, and numerous employee recognition awards are some of the reasons we're a "perky" company.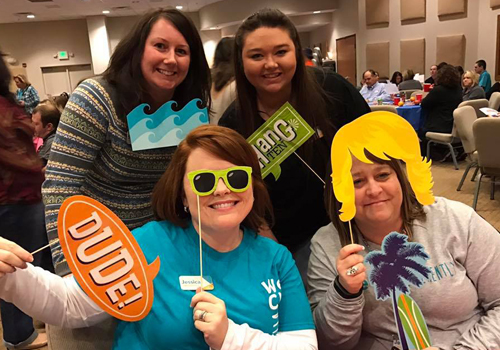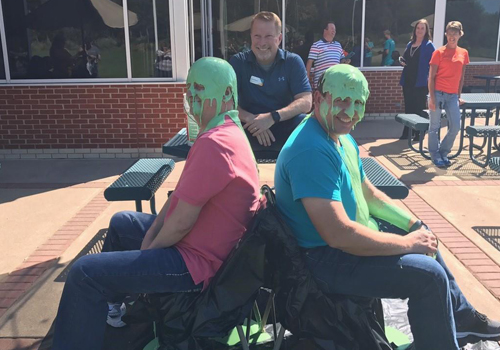 We Keep It Fun
All work and no play just isn't our style. Our Recognition Team is constantly coming up with exciting Events throughout the year. We also have organization-wide gatherings such as our Vision Day that features guest speakers, activities, food, and hear from our Senior Team about the direction and plans for the future. Beyond our "official" activities, our staff typically find ways to organize all sorts of other team- building opportunities such as a bowling team, basketball team, painting classes, exercise classes, fantasy sports leagues, and more! At Commonwealth CU, you're not just an employee, you're family!