2023 Holiday Celebration
It's time for a celebration. You could win $500 during our weekly giveaway!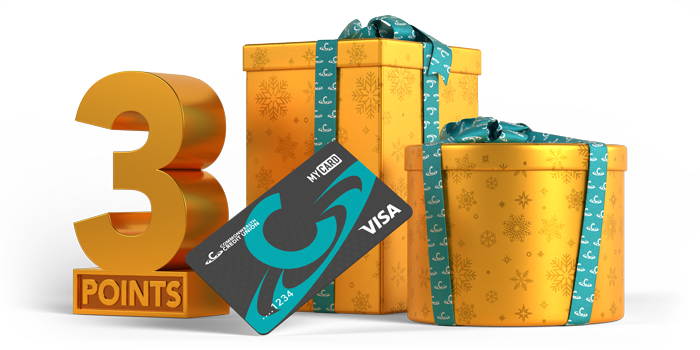 Holiday Celebration!
Let's celebrate! During our Holiday Celebration, we're giving you a ho ho ho lot to celebrate. From October 1st, 2023 to December 31st, 2023, you can earn 3 points on every dollar you spend when you use MY Card to fill up your sleigh! 
Connect your card.
Security and convenience for purchases online or on-the-go.
Connect your credit or debit card to your mobile wallet for quicker, more secure transactions
Make your everyday purchases.
Use MY Card for your everyday purchases, on anything you need.
Earn 3 Points for every $1 you spend in our Everyday Rewards Credit Card Program

Points are applied daily for quicker access
You could win $500!
Not only will you experience faster checkouts and convenience no matter where you are – with every mobile wallet transaction, you'll earn a chance to win $500 during our weekly giveaways! Simply add your Commonwealth CU credit and/or debit card to your mobile wallet and use it at checkout to be entered to win. That's right! We're picking a new winner every week! From now through December 31st, every credit or debit card purchase you make using your mobile wallet earns you a chance to win! 
*Eligible CCU Members who add their CCU Credit Card and/or Debit Card to their mobile wallet and use said card and method to make purchases from October 1, 2023 - December 31, 2023 will be automatically entered. Winners drawn each week from October 10, 2023 - January 2, 2024. All loans subject to approval. No purchase necessary. Excludes business accounts. CCU employees, affiliates, officers, directors, agents, representatives, and each of their immediate family members (spouse, parents, children, and siblings, regardless of where they live), and each individual living in the same household as any such individual, whether related or not, are ineligible to participate in the Promotion. See official rules.
Setting up Mobile Wallet.
Your Mobile Wallet is a highly secure and convenient way to make transactions online or on-the-go! Watch the video below to learn how to set up your favorite Commonwealth CU credit or debit card on your device.
FREQUENTLY ASKED QUESTIONS
How do I set up my card in mobile wallet?
Setting up your card is easy. Open or download the wallet app. Look for the plus sign to add your card information. Follow the instruction on your phone's app to complete the process. Then, start shopping!
Is a wallet app available on all smartphones?
Yes. Each smartphone brand has a wallet app that is either already installed on the phone or can be downloaded from their app store. 
How do I pay using my mobile wallet?
First, add your credit or debit card from Commonwealth Credit Union. When you're ready to make a purchase, unlock your phone, hold it near the contactless card reader, and you'll receive a notification that your payment has been accepted. 
Commonwealth Credit Union is a full-service, not-for-profit financial institution with branches throughout Kentucky.